Treating the water before it gets to you is important to make sure it looks, smells and tastes right and meets health standards.
The treatment process makes sure your water meets the Australian Drinking Water Guidelines (2011). The national guidelines tell us what good, safe drinking water is and how to make sure what we give to you is exactly that.
The water treatment process
There are two different methods of treating water. If the source water is of a reasonable standard, then we use a traditional, seven-step process. This process is outlined below.
If the source water is extremely hard or salty, then a process like desalination might be more appropriate.
Traditional 7-step water treatment
Conventional water treatment follows seven steps. Those steps are:
Coagulation
Flocculation.
Sedimentation.
Filtration.
Disinfection.
Fluoridation
Storage and distribution.
Let's look at what each step involves.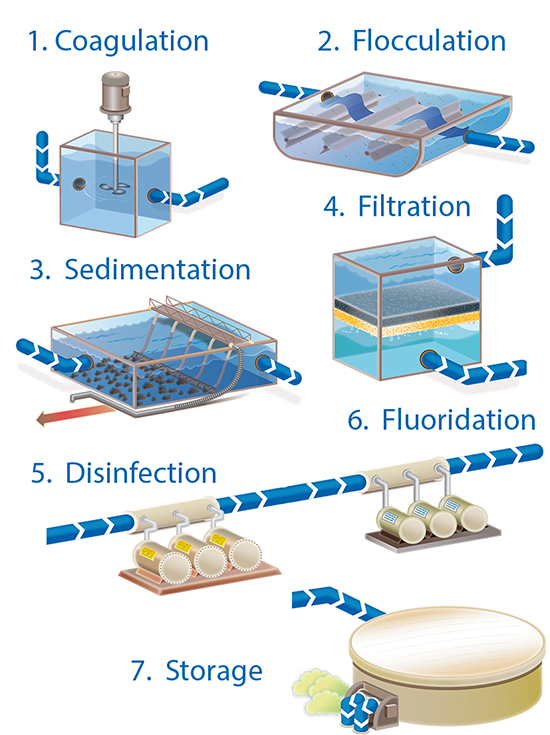 1. Coagulation and 2. Flocculation
As water moves through the pipes, the impurities within it start to clump together.
In the first stage of the water treatment process, the water moves into a flocculation tank. This is where a chemical coagulant is added to the water. It's called a flocculation tank because the clumps formed by impurities in the water are called 'flocs'.
3. Sedimentation
Within about half an hour, the water passes from the flocculation tank into a sedimentation tank. There it is left to settle. After several hours, most of the flocs have settled to the bottom where they form sludge. We remove the sludge and treat it further before disposing of it.
The water then moves from the sedimentation tank into a filtration tank.
4. Filtration
By now most of the impurities have been removed from the water. At filtration stage the water goes through a bank of filters. The filter vessels contain either sand or coal and sand. As the water bubbles through the filter, the impurities get trapped. The result is clear water.
The filters need to be regularly cleaned. This cleaning process, known as backwashing, removes the trapped particles. We then recycle the backwashed water through and re-process it. That way we reduce waste.
5. Disinfection
Once the water is clear we disinfect it to kill any remaining micro-organisms. At SA Water we generally use a chemical called chloramine, which is a combination of chlorine and ammonia. Only after it has been disinfected is the water safe to drink.
Chemical disinfection is not the only process we use. In many of our regional water treatment plants, we use UV light instead.
6. Fluoridation
Fluoride is then added on behalf of the SA Department of Health and Ageing in order to provide a significant public health benefit. Fluoride does not affect the appearance, taste or odour of drinking water and is controlled to ensure levels comply with the Australian Drinking Water Guidelines.
7. Storage
Drinking water can then be stored in storage tanks. Tanks are strategically located to deliver water more effectively during peak usage times.
All of the plants using UV disinfection are in the regional or remote areas of South Australia. These include:
APY Lands (Amata, Iwantja, Kalka, Mimili, Nepabunna, Pipalayatjara, Puktaja, Umuwa, Yalata, Yunyarinyi)
Barmera
Berri
Coffin Bay
Loxton
Mannum
Middle River
Murray Bridge
Parachilna
Penneshaw
Renmark
Summit
Swan Reach
Tailem Bend
Waikerie.
To find out which method of disinfection your water treatment plant uses, please contact us.
Membrane treatment
Where water is very hard, it might need a more intensive treatment process. Some people call it membrane treatment, but we know it as desalination. Read more about that here.
An example of where we use this method to improve the quality of drinking water is at Hawker in the Flinders Ranges.
Special treatment: Iron Removal
If the source water has high levels of iron, it may need to go through an iron removal plant.
We have 11 iron removal plants in South Australia. While iron in your water is not bad for you, it can have an unpleasant taste or smell and can stain some materials.
We have iron removal plants at:
Tarpeena
Kalangadoo
Penola
Kingston
Beachport
Robe
Lucindale
Pinnaroo
Lameroo
Parilla
Hawker.
How does iron removal work?
At the iron removal plants we have specially-designed pressure filters and backwash facilities.
Iron removal works by oxidizing the dissolved iron with chlorine. This causes the iron to form solid particles which can be removed by pushing the water through sand filters.
Special Treatment: Magnetic Iron Exchange (MIEX®)
At our Mount Pleasant Water Filtration Plant, we use Magnetic Iron Exchange (MIEX®) to treat the water. It was the first plant in the world to use this revolutionary process.
The process involves a reusable resin. That resin was developed after many years of research and teamwork by SA Water, Orica Watercare and the CSIRO Division of Molecular Science.
What does MIEX® do?
The MIEX® resin works like a magnet, attracting dissolved organic carbon (DOC) in the water. DOC is the main cause of colour in water, and it can affect both the taste and smell of drinking water.
Using this process has the side benefit of reducing the chlorine dose needed to disinfect the water.
Why is MIEX® innovative?
The resin can be regenerated and recycled through the plant again and again. It also reduces cost because it removes the need for large resin stocks. It's a continuous and flexible process, one that can adjust to wide variations in the quality of source water.
Magnetic Iron Exchange benefits include:
Cost-effective removal of dissolved organic carbon
Significant reductions in the creation of disinfection by-products
Lower volumes of chemicals needed (both coagulant and chlorine)
Lower volumes of sludge production
Reduction in water colour.