Water Engineering Technologies provides customised engineering services and integrated solutions for the water industry. Our technical capabilities are underpinned by a team of specialist professionals, fully equipped workshops and more than 20 years of experience with large water and wastewater infrastructure.
Water Engineering Technologies works in close partnership with you to design and deliver innovative solutions that meet your precise needs.
Our fully equipped, modern workshop is at, is located in Berri South Australia.
Expertise
We offer our expertise across Australia for the water and wastewater, irrigation, agriculture and mining industries.
Pump overhauls, refurbishments and repairs
Fabrication of MSCL pipes
Manufacturing of steel, stainless steel and aluminium structures
Design and manufacture of electrical switchboards
Electrical and instrumentation control systems
PLC and SCADA system development and installation
Complex design, construction and maintenance services are delivered with innovation and high levels of client engagement
Working together
Our specialist experience and expertise will provide the solution you need.
With access to large scale infrastructure, scientific knowledge and engineering resources,
enables us to deliver robust end-to-end solutions.
To make ideas a reality, our project managers support clients throughout the project to ensure
innovative ideas are scoped, designed, built, tested and delivered.
The diversity of services and technical capability we bring to the partnership ensures a unique, value-add customer experience.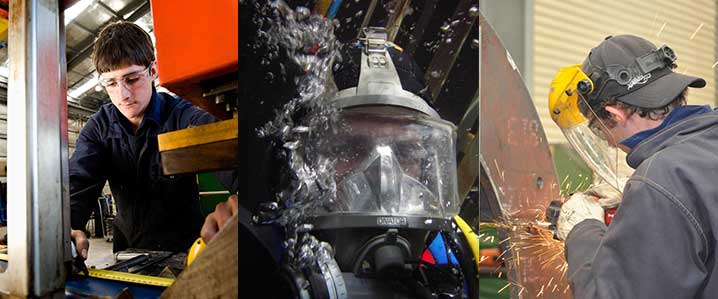 Water Engineering Technologies is a business unit of SA Water.