Water Engineering Technologies offers an Australian Diver Accreditation Scheme (ADAS) qualified dive team selected from tradespeople with extensive knowledge and experience in low visibility (or black water) diving.
The use of skilled tradespeople as divers ensures work is performed within time frames to a high standard. All diving is in accordance with the dive procedures manual to ensure that work is completed safely and complies with Australian standards 2815 and 2299. With access to a wide range of plant and equipment our divers are capable of performing most underwater construction and maintenance work to a depth of 30 metres.
What our divers can offer your business:
Tank cleaning
Investigative work
Pump inlet/screen installation/cleaning
Modifications
Repairs
Installation
Cable laying
cable laying
Search and salvage retrieval
Dredging, sand and mud
Coffer dam installation and sealing
De-snagging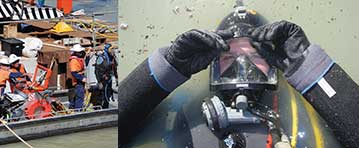 Download and share the PDF of our Water Engineering Technologies diving service. [PDF, 72 kB]
For more information, call us on (08) 8595 2277 or email us.