Our highly skilled electrical team specialises in engineering, design and manufacture of control systems, ranging from simple to complex, incorporating specialised instrumentation, automation, data logging and remote control.
Our consultancy service also provides you with assistance in selecting the best system to suit your requirements.
Key services include:
Engineering, design, manufacture and commissioning of new electrical and instrumentation control systems complete
with Auto CAD drawings and operational documentation
Upgrades of existing electrical and instrumentation installations.
High Level PLC and HMI programming with expertise in complex electrical systems including automated processes and PID applications
Development and installation of SCADA systems, including remote control and data acquisition systems via SMS technology
Instrumentation installation and calibration.
Water supply and filtration systems, pressure boosting systems and chemical dosing systems.
Design and manufacturing of electrical control systems, not just those limited to the water industry
.Consultancy services for customers seeking assistance in selecting the best system for their application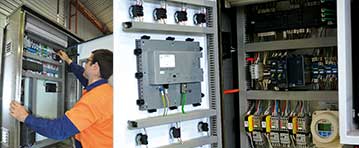 Download and share the PDF of our Water Engineering Technologies electrical service. [PDF, 210 kB]
Fore more information, call us on (08) 8595 2277 or email us.