Our Fabrication Workshop specialises in manufacturing steel, stainless steel and aluminium structures to the highest standard.
Benefits of our pipes
A notable benefit of our pipes is their cost effectiveness for a long life and their versatility to be used above or below ground. Our services extend to our ability to roll our own pipes, tapers and fittings for a range of sizes up to 1800mm in diameter.
Welding of steels
MMAW (Stick)
Welding of mild steel, stainless steels, cast iron with stick, both in the workshop and out on site
GMAW (Mig)
Welding of mild steel with both solid and flux cored wires, also stainless and aluminium with solid wires in the workshop
Ability of working out on site with gasless wires on mild steel
TIG
Welding of mild steels, stainless steels and aluminium, both in the workshop and out on site
Our facility provides an extensive range of up to date equipment which ensures all repairs and manufacturing is conducted to
a very high standard.
The Fabrication Workshop also features two gantry lifting cranes and more than 900 square metres of workspace.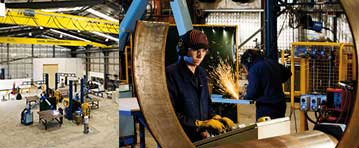 Download and share the PDF of our Water Engineering Technologies fabrication service. [PDF, 203 kB]
For more information, call us on (08) 8595 2277 or email us.