The people in our Mechanical Workshop are leaders in pump refurbishment and large scale machining.
Pump refurbishment
Our workshop enhances the performance of most water and wastewater pumps or valves. We are experienced in modern maintenance methods to extend the time between overhauls. 24 hour services are also offered.
Improvements include:
Efficiency enhancements
Corrosion and cavitation protection
Reseating and rebuilding of impeller seal rings
Repair of stuffing boxes, neck bushes, shafts and casings
Rebuilding pump impellers and casings.
Epoxy coating
The use of epoxy coating and the modification of pump units to accept mechanical seals increases pump efficiencies and assists with the drive to extend overhaul periods.
Modern products, methods and processes are constantly being evaluated and utilised in the development of new products.
This has seen overhaul periods increase from two to three years to 8-10 years. We only schedule and overhaul after rigorous performance monitoring and where significant efficiency gains and performance reliability improvements can be achieved.
Iron bacteria control
The fouling of ground water or drainage pumping systems by iron bacteria is a worldwide problem. It results in impaired hydraulic performance, increased pumping costs and corrosion. At Water Engineering Technologies we have developed a solution to control iron bacteria.
SA Water has patented a technique involving in-situ generation of chlorine by electrolysis of groundwater. This technique has proved to be very effective in controlling iron bacteria.
Some bores that would have previously lost up to 45% of their flow within 50 days of the installation of a new pump have now operated continuously for over three years with no loss of flow caused by iron bacteria.
Meter testing
The mechanical workshop can offer a full range of meter repair and accuracy testing for water meters from 80 mm to 375 mm.
Our services include:
meter testing
meter calibration
accuracy certificates.
Size Range: 80 mm – 375mm.
Flow Rate: 2 L/second – 200 L/second.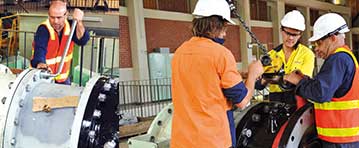 Download and share the PDF of our Water Engineering Technologies mechanical service. [PDF, 84 kB]
For more information, call us on (08) 8595 2277 or email us.