Customer Engagement Program: Your Say
Our Customer Engagement Program is the first of its kind in both the breadth of customer engagement and the level of detail sought about the needs and expectations of our customers.
Between November 2013 and April 2015, we engaged with residents, businesses and industry groups across our customer base to inform our business strategy and next Regulatory Business Proposal for the period commencing 1 July 2016.
The Customer Engagement Program was delivered over five stages.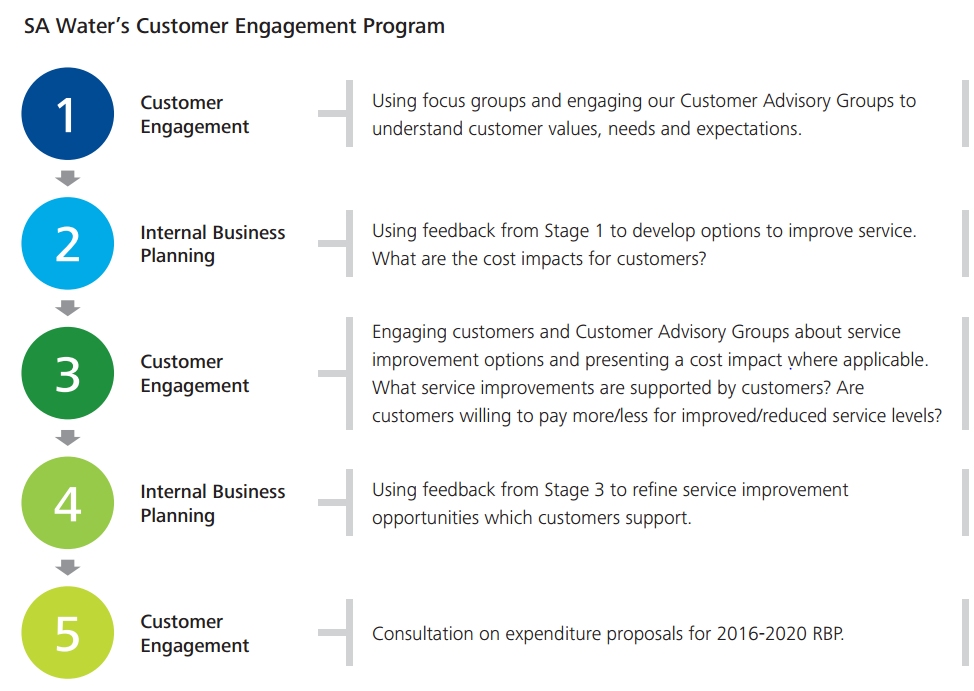 The reports of the Customer Engagement Program can be downloaded below.
Customer Research
To ensure our services meet your needs, we contact our customers to measure their satisfaction with the service we provide. We also ask questions about how the community perceive us, and your opinions of how we are performing as an organisation. We do this on an ongoing basis to keep track of our performance and measure the impact of the changes we make to the way we work. We mostly measure customer satisfaction and perception through phone and online surveys. We also engage our customers through focus groups and one-on-one interviews. This research is often undertaken by an external market research company, however we may also contact you ourselves.
We undertake the following research on an ongoing basis:
Customer satisfaction with your service experience
The Customer Experience Report for Q4 FY 16-17 is now available.
We check-in with customers who have recently contacted us with a general enquiry, to report a fault or apply for a new connection. We do this to find out where we are delivering a great customer experience and where we need to improve. Customers are contacted via phone by our research partner, Newfocus.
From the 1st of July 2016, our Customer Satisfaction research has changed and become our Customer Experience research. We now only ask questions that are relevant to the recent experience a customer has had.
The data for our Customer Experience research is still collected by our market research supplier Newfocus Market Research, and provided to SA Water. The quarterly reports on the Customer Experience research are created by SA Water, with a data validation on the report undertaken by Newfocus Market Research.
You can access our customer satisfaction research reports below:
Customer perceptions of SA Water
In August 2016, we started an ongoing market research project to understand community attitudes toward SA Water. This research is undertaken by our research partner, Newfocus. It involves a telephone survey with residents and businesses in South Australia. The feedback we gather allows us to understand what's important to you and how you think we are performing. We will use this information to evaluate the work we do and to inform our strategic planning.
We also use online surveys to evaluate the performance of digital services, including our website, digital forms and the service we provide via email contact.
All the market research we undertake is completely voluntary and you are not obliged to participate. We respect your privacy and your responses will not be linked to your personal details. Our market research is undertaken according to the guidelines set out by the Australian Market and Social Research Society.
If you have any queries about SA Water's customer research projects you can contact us via yoursay@sawater.com.au or by calling the Customer Service Centre on 1300 650 950.
Customer Advisory Groups
The SA Water Customer Advisory Groups were established in 2012 to increase interaction between SA Water and representative customer groups. The groups provide SA Water with a mechanism to:
Obtain customers' views about its services, initiatives and policies
Seek guidance on appropriate ways to communicate with customers
Ensure it understands and can test assumptions and expectations, and
Deliver information back to the community.
The Customer Advisory Groups are consultation and advisory bodies, charged with ensuring that business and residential customer opinions are represented in the SA Water decision making process. The work of these groups provides important customer feedback to SA Water.
Representatives from the following organisations make up the Customer Advisory Groups:
Residential Customer Advisory Group
Consumers SA
Council of the Aging SA (COTA SA)
Multicultural Communities Council of SA
Regional Communities
SA Federation of Residents & Ratepayers Association Inc
South Australia Council of Social Service (SACOSS)
Business Customer Advisory Group
Australian Industry Group
Business SA
Property Council of Australia (SA)
Primary Producers
Urban Development Institute of Australia
Want to know how more about our performance?
We are committed to providing every customer with a great experience. That's why we continually monitor and benchmark our performance. This enables us to drive ongoing improvements in how we service you.