The health and safety of our people and the communities we interact with is priority.
In keeping with social distancing measures being implemented across the country to support community health and wellbeing by reducing the spread of COVID-19, the Quench Bench will be unavailable for bookings until further notice.
People with existing bookings are being contacted individually. If you have any questions, please call us on 08 7424 2223 or email community@sawater.com.au.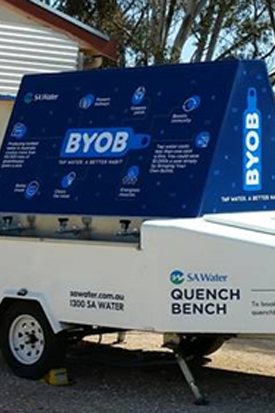 SA Water's Quench Bench is one of the simplest ways of offering drinking water at your community event and it's free of charge.
The Quench Bench is a portable trailer fitted with troughs, taps and bubblers. It connects to a mains water supply to deliver drinking water. It is available for outdoor community events expecting more than 1000 attendees.
How to book the SA Water Quench Bench
To apply for the SA Water Quench Bench, complete and return this application form [PDF, 183 kB]. You must lodge your application at least three weeks before the event.
Important things to know
To be able to use The Quench Bench, your event site requires:
a flat site for its location – the Quench Bench dimensions are 5m (length) x 3m (height) x 2.5m (width)
a drive-through site, as the trailer can't be reversed or moved by hand
access to a Department of Health compliant drinking water connection point within five metres.
One of our technical staff members will come and assess your site approximately 10 days before your event.
If the site is not suitable, SA Water may not be able to set up the Quench Bench.
Contact us for further information:
Email – quenchbench@sawater.com.au
Phone – (08) 7424 2223