Our Long Term Plan for Kangaroo Island was finalised in 2009. It outlined a framework that would ensure Kangaroo Island had a secure water supply to meet increases in water demand over the coming 25 years.
The plan considers the current and projected water supply and demand, as well as possible upgrade options for the future. This is to ensure demand can be met for both residential and commercial purposes.
From October 2017, we will begin talking with the Kangaroo Island community, to help update the current plan. The initial phase of this review will run until early-mid 2018, with the aim of publishing a new plan following this.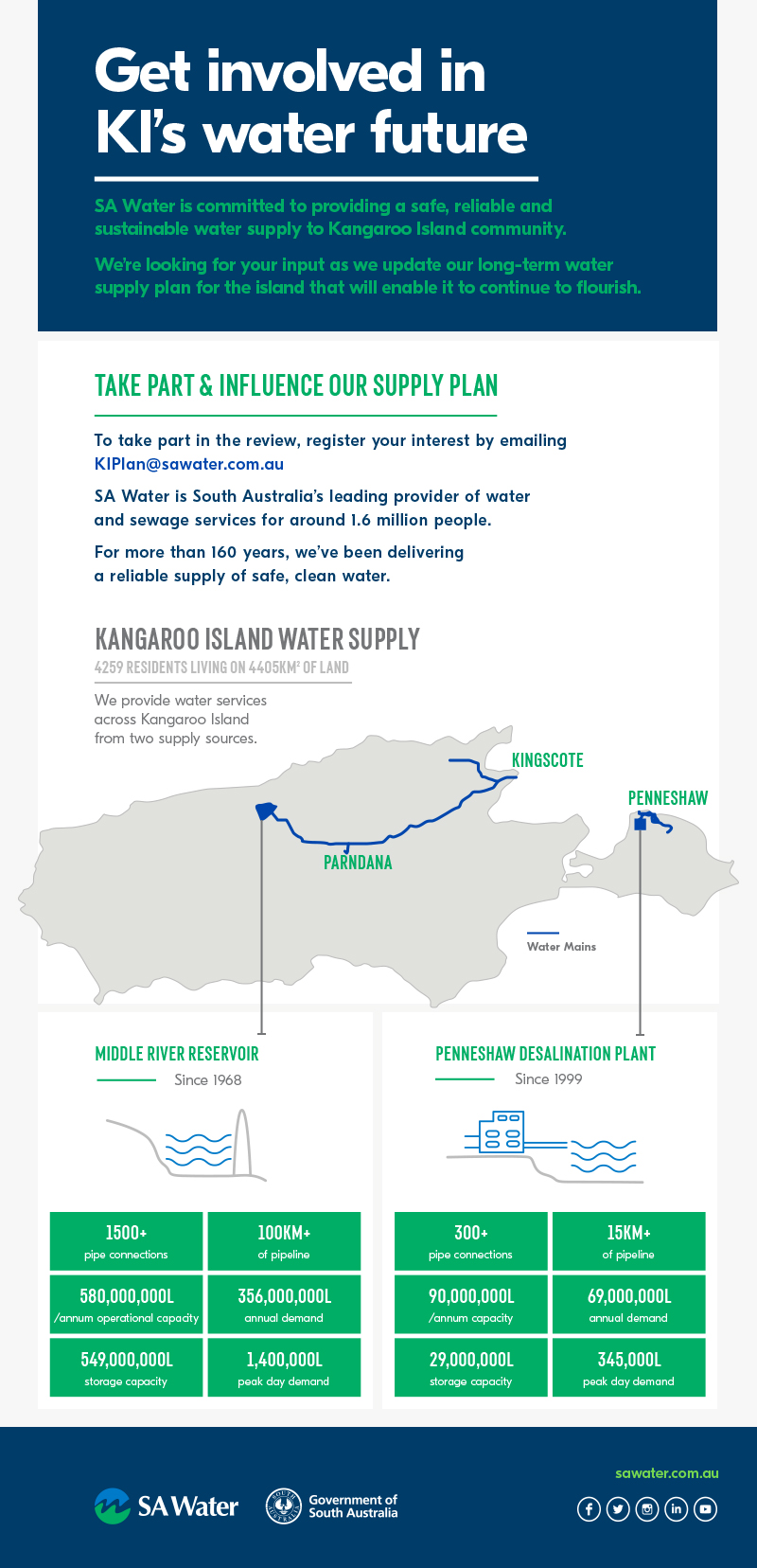 The review process will include updating the demand and supply projections, revisiting the potential upgrade options, consider any innovative ideas that have been identified and work with key stakeholders to provide a roadmap for how we will continue to service the Kangaroo Island communities.
We will ensure early engagement opportunities are provided which we hope will build on existing partnerships and develop new relationships. In doing so, the updated version of the Plan will incorporate current stakeholder issues and concerns and ensure we have the best solution for Kangaroo Island over the next 25 years.
The 2009 long term plan for Kangaroo Island can be seen here.
We have instigated an engagement process to ensure that stakeholders, including industry and community, have the opportunity to input to SA Water's decision making process as it relates to the security of water supply for Kangaroo Island.
The insights gathered through engagement activities will help shape a new long-term water supply plan for the island that will balance fundamental water supply needs with stakeholder and community priorities like economic growth, environmental protection and lifestyle.
The engagement process comprises two phases:
Phase 1 – the development of a Reference Group consisting of a wide range of Kangaroo Island representatives. This group will meet regularly on Kangaroo Island and actively inform SA Water throughout the review process to develop a draft update of the Long Term Water Supply Plan for Kangaroo Island.
Phase 2 – including a series of open house sessions to open two-way communication with other stakeholders and the broader Kangaroo Island community and to identify any additional issues and opportunities relating to the security of the water supply for Kangaroo Island.
The Reference Group will work with SA Water to examine the various issues and opportunities proposed by SA Water and to be a mechanism to inform key stakeholders of the progress of the review as well as enabling SA Water to gain an understanding of the issues of importance to the community.
To take part in our upcoming engagement activities as part of the review, you can register your interest by emailing KIPlan@sawater.com.au.