The Adelaide water supply network is complex and draws from a range of sources including reservoirs, the River Murray and the Adelaide Desalination Plant. SA Water has played a role in managing the Adelaide Water Supply network since 1856. Read more about our history.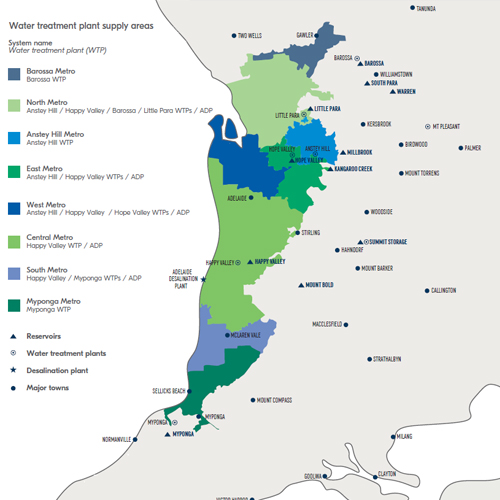 North South Interconnection System (NSIS)
A major step forward for metropolitan Adelaide has been the North South Interconnection System (NSIS). This system allows us to move large volumes of water between the northern and southern water supply systems.
The system included the construction of new pipelines north, east, west and south of the Adelaide CBD.
This short video explains how the North South Interconnection System works:
Before interconnection, Adelaide's water system was in two parts
Before the NSIS was in place, Adelaide consisted of two major water system. People in the southern suburbs relied on one system (the Murray Bridge – Onkaparinga – Happy Valley system). People in the northern suburbs relied on another (the Mannum – Adelaide – Hope Valley system). They were split roughly at the River Torrens.
By connecting the two systems, we made your water supply more flexible
The NSIS gives Adelaide a more flexible water system and also makes sure we can get water to people in times of drought. If supplies in the northern system are low, we are now able to move more water into that area.
Water movement throughout the system
Much of Adelaide's water supply is gravity-fed. This means that where water moves to a lower point, we let gravity do the hard work.
Where water needs to move across flat land, uphill or over long distances, we use pumping stations to push it along. We have about 60 pumping stations in the network. They are built at strategic points of the network to reduce the amount of energy needed to move the water.
Consistent pressure is achieved by Pressure Reducing Valves (PRVs)
Keeping a consistent and steady water pressure is important if your water supply is going to be reliable. Even with the use of pumping stations, there are still a range of things that can impact on how quickly the water moves. These include how much water is being used and how many connections are on the main.
Pressure Reducing Valves assist in controlling leaks and pipe bursts, as well as easing pressure problems across the pipe network.
We maintain about 50 PRV stations across metropolitan Adelaide.