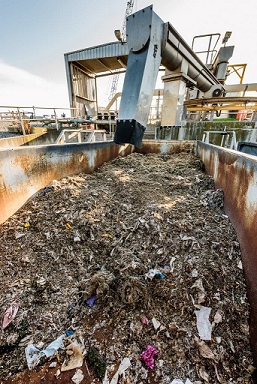 SA Water maintains 20 sewage treatment plants in the state's country areas and six sewage treatment plants in the metropolitan region. Sometimes, we find strange items in our sewage plants, including false teeth, money and car tyres.
Although all foreign objects have the potential to disrupt our system's operation, wet wipes are one of the biggest problems currently facing the wastewater industry. Wet wipes are moist cloths often used for personal hygiene, however they are not designed to be flushed down the toilet.
While toilet paper breaks down in around 30 seconds, wet wipes are much stronger and don't easily disintegrate in the sewerage system. Water utilities across the world are dealing with the growing issue of wipes clogging pipes and damaging sewerage infrastructure.
As well as the costs involved in removing them from our system, wet wipes can damage your plumbing and cause environmental issues, such as overflows to creeks, beaches and waterways.
By placing wet wipes in the bin rather than flushing them, you'll be doing your bit to assist South Australia's wastewater system and our environment, as well as easing the strain on your household plumbing.