Important information regarding the Adelaide Desalination Plant community open day
The health and safety of our people and visitors to our sites is priority.
In keeping with social distancing measures being implemented across the country to support community health and wellbeing by reducing the spread of COVID-19, our community open day at the Adelaide Desalination Plant planned for 28 March has been cancelled until further notice.
We will look to hold this event at a more suitable date later in the year, and will provide updates via our website and social media, when available.
If you have any questions, please call us on 08 7424 2223 or email community@sawater.com.au.
Across South Australia we maintain and operate nine desalination plants.
There are two seawater desalination plants: one at Lonsdale in Adelaide and the other at Penneshaw on Kangaroo Island.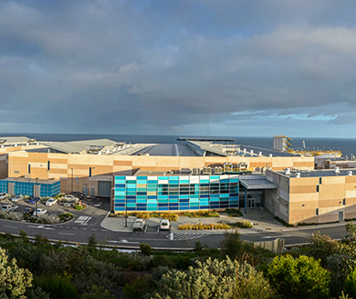 Adelaide Desalination Plant supporting drought relief
The Adelaide Desalination Plant's industry-leading operation mode will see the Lonsdale site contribute to national drought relief measures by providing Adelaide customers with 40 gigalitres (GL) of water to 30 June 2020.
This follows agreement between the state and federal governments that includes no adverse impact on River Murray flows to South Australia, water prices or Adelaide's water security.
Read more about how the Adelaide Desalination Plant will be used to support national drought relief.
The desalination process
Our desalination plants use a technology called reverse osmosis which removes up to 99 per cent of the impurities and salt in the water.
Once the impurities are removed, the water is treated to meet the Australian Drinking Water Guidelines (2011) standards ensuring it is safe and ready to drink.
Groundwater desalination around the state
Seven desalination plants located around the state treat groundwater to remove the salt and impurities. These plants are located in Hawker and Leigh Creek, Indulkana, Mimili, Kaltjiti (Fregon) and Yunyarinyi (Kenmore Park) on the Anangu Pitjantjatjara Yankunytjatjara (APY) Lands in the far north of South Australia, and Yalata on the west coast.
Using desalination plants enables the supply of safe, clean drinking water for our customers that is climate independent, including in times of low rainfall and drought.