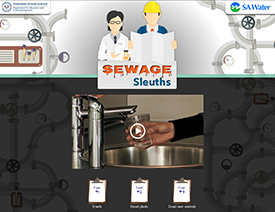 Have your students explore water issues using their mathematics skills by becoming investigative engineers! Your students will solve the problems plaguing the fictitious Rivertown wastewater treatment plant. They will do this by interpreting graphs of industrial processes. They will then connect the statistics with solutions to real-world problems.
Where? Online.
Who? Targeted at middle school students.
Teacher resources for Sewage Sleuths can be downloaded here.