Take the Tap Test
Take the Tap Test (TTT) is a blind water taste test with a twist! We ask people to 'taste test' five different sources of water: four taken from SA Water's drinking water systems around the state and one bottled water purchased from the supermarket. Participants then rate each sample and try to pick which one was the bottled water.
Why we run this
TTT helps SA Water to understand what our customers like (or don't like) about their drinking water. By taking the test and giving us your feedback we can better understand your thoughts and opinions of drinking water quality. This helps SA Water to improve services and plan for the future. We also have water quality experts on hand at to help answer any questions you might have about your drinking water at home.
Your feedback
More than 4100 people have attempted to the pick the bottled water. While 87.5% of participants felt confident that they had chosen correctly, only 26.13% of participants were right, with 12.5% not sure and a whopping 61.4% who thought SA Water tap water was bottled water.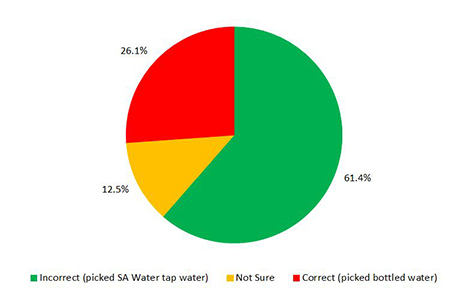 So most people can't pick the bottled water, but what do they really think about Adelaide tap water?
Over 4100 people right across South Australia have tasted Adelaide tap water. We have discovered that 60.1% of participants were satisfied with Adelaide tap water. 24.3% weren't really sure whether they liked it or not and only 15.6% were dissatisfied with the taste.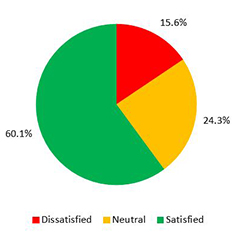 How does Adelaide water stack up?
When you compare our major metropolitan supply (Adelaide tap water), major regional supply (sourced from the River Murray) and bottled water people find them fairly similar (Figure 3), and while groundwater supplied by SA Water is generally not as satisfying, due to the flavour imparted by the minerals and salts in the aquifer, it is definitely safe to drink! The data collected during Take the Tap Test will highlight areas of dissatisfaction and allow SA Water to better plan our aesthetic improvement strategy. Tasting water is like tasting food, not everyone likes the same things and while you may love liquorish your friend may have a very different reaction. Water also has taste and each source has different characteristics!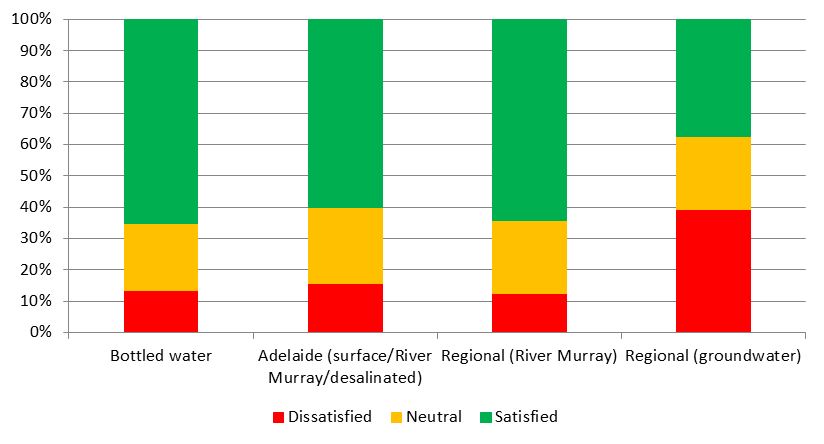 Please note that this is satisfaction for Mt Gambier (regional groundwater), Peterborough (Regional River Murray water), Adelaide (all central metro results) and bottled water.
The real price of tap water
1 litre of tap water = $0.002 – That's about 4 litres for 1 cent
Compare that with:
*1 litre bottled water = $5.17 (2278 times more expensive)
*1 litre of cola flavoured soft drink = $4.20 (1850 times more expensive)
*1 litre of petrol = $1.20 (529 times more expensive)
*1 litre of milk = $2.00 (881 times more expensive)
Tap water values based on residential tier 1 water usage cost of $2.36 per 1000 litre for the first 328.8 litres used per day
Tier 2 = $3.37 per 1000 litre for use of 328.8 litres to 1424.7 litres per day
Tier 3 = $3.66 per 1000 litre for use above 1424.7 litres per day