SA Water is upgrading Kangaroo Creek Dam in three stages. The work will make sure it complies with ANCOLD (Australian National Committee on Large Dams) standards.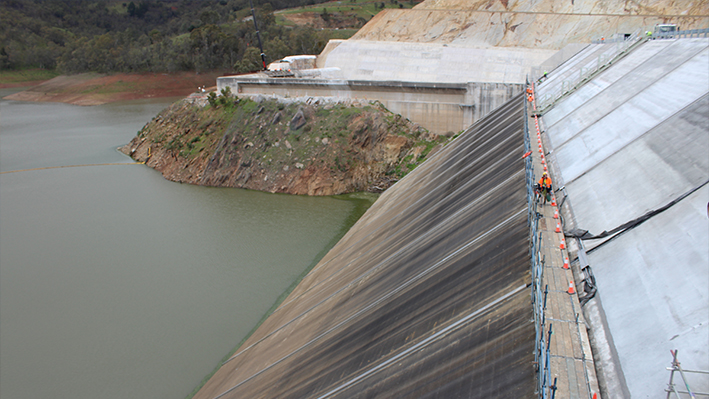 Artist's impression of completed dam upgrade.
Project Overview
Construction began in late 2015.
The work will:
widen the spillway
raise the wall
strengthen the wall.
These upgrades will help manage major floods. They will also increase the dam's ability to withstand earthquakes. The dam's existing flood management will be operational throughout the project.
Stages of works
The upgrade will be completed in three stages.
The first stage will:
remove vegetation
set up the site
build access roads.
We will be re-vegetating other SA Water sites to offset plant removal.
The second stage will remove rock from the hillside next to the spillway. This will be done by a method known as 'blasting'. It will involve heavy machinery and controlled explosives. Some of the rock material will be re-used to strengthen the existing embankment downstream of the dam wall.
The third and final stage will involve widening the spillway and raising and strengthening the dam wall. The reservoir will be maintained at a lower level during the project to allow works to be completed safely. To do this, we release a steady, consistent flow of water from the dam after rainfall events. This release is controlled and is scheduled over a long period of time to minimise the impact downstream. The water being released is of good quality and is cleaner than stormwater.
The reduced water level will not impact on drinking water supplies. Releases from the Reservoir are being timed (where possible) to support initiatives such as environmental and amenity flows in the River Torrens.
We are working closely with local government, the Environment Protection Authority (EPA) and other government agencies and stakeholders throughout the project.
Deadline
It is anticipated the project will be completed in 2019.
Traffic Management
Whilst the majority of the construction activity will be confined to SA Water's land, SA Water will be upgrading sections of Batchelor and Stonehut roads to facilitate truck movements. We are investigating upgrades to the intersections of Gorge Road and other local roads. To ensure the safety of road users, Gorge Road will be temporarily closed for short periods during rock blasting activities.