Water is now flowing through pipes in Orroroo after we recently delivered a project to improve drinking water supply to the township of Orroroo.
Construction was undertaken by SA Water's contractor Leed Engineering and Construction, and works were undertaken from September 2018 before practical completion in March 2019.
Approximately 36 km of new pipeline from Peterborough to Orroroo was installed, together with an additional 18 km of pipe which was upgraded between Yongala and Peterborough. The alignment of the new pipeline between Peterborough and Orroroo was mostly laid under road verges along a route that follows Petersburg Road, RM Williams Way, Bencic Road and Minburra Road.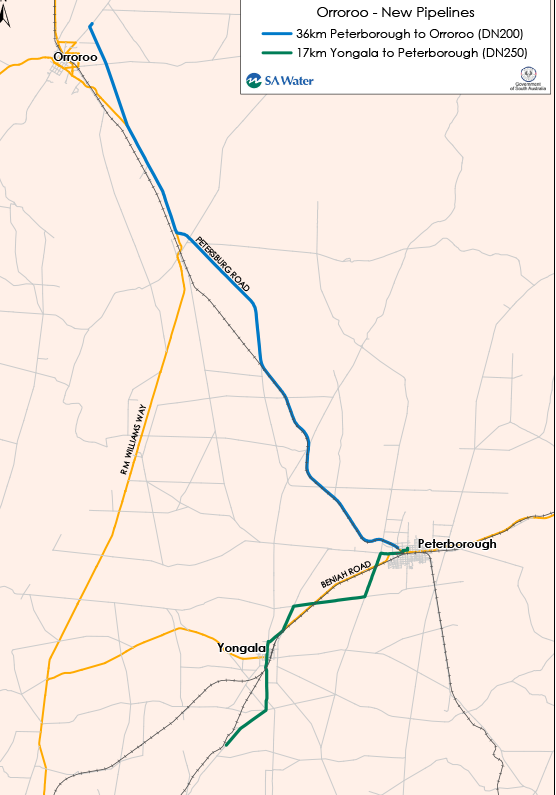 Water supply for Orroroo was previously sourced from groundwater from the Walloway Basin via two bores. Although classified as potable under the Australian Drinking Water Guidelines (ADWG), the town's water supply did not meet aesthetic water quality expectations due to its saltiness. The salinity of the town's water is a naturally-occurring physical characteristic, typical of many inland groundwater systems in Australia.
The current water is treated at the Morgan Water Treatment Plant and is some of the state's highest quality water, being voted South Australia's best-tasting tap water in 2016 and 2017. This new water supply will make a real and practical difference to the lifestyle and businesses of people living in Orroroo and may also help promote growth and confidence in the town. We are excited and proud to be able to deliver this for Orroroo and hope you enjoy the benefits of this higher quality, better tasting water.
The project required collaboration with the Orroroo community, the District Council of Orroroo Carrieton and the involvement of members of the Reference Group. We would like to thank everyone involved for their role in helping us achieve this great positive outcome for Orroroo.
More information
If you would like any further information, or to enquire about a potential new connection to the new pipeline, please contact our project team1300 SA Water (1300 629 283) or email project@sawater.com.au.