Community partnerships
Community partnerships
Applications for our 2022-23 Community Partnerships Program are now closed.
Our Community Partnerships Program is focused on supporting grassroots community events and projects run by not-for-profit organisations.
Projects and events we partner with need to have a clear link to water use and our vision of 'delivering trusted water services for a sustainable and healthy South Australia'.
We want to partner with organisations who, like us, foster an inclusive culture where diversity of thought, background and experience are embraced and celebrated.
This program runs annually following the financial calendar year, and has a funding limit of $10,000 per partnership.
Criteria
Applications must demonstrate delivery of the below key criteria:
alignment with our vision: Delivering trusted water services for a sustainable and healthy South Australia
South Australian: not-for-profit organisation delivering valued services to the South Australian community
program/event: benefits community members where the impact will be greatest
program/event: provides opportunities for SA Water to engage with the community
opportunities for staff engagement
the sponsored event or project falls within the period 1 July to 30 June each year.
What we won't support
While we welcome partnerships with a range of organisations, we do not accept applications for sponsorships that support:
individuals
any project, program or event related to gambling
events that promote the consumption of alcohol as its core activity (such as wine festivals)
organisations we are already engaged in a formal arrangement with, such as a Memorandum of Understanding or contractual agreement
projects, programs or events where there is a real or perceived conflict of interest with an existing partnership, business or sponsorship activity.
We are not able to make charitable donations or support projects that span multiple years or require recurrent funding.
Evaluation
All partnered programs and events will be required to provide a self evaluation upon completion of the event or initiative. If participating organisations are unable to deliver the agreed benefits or the evaluation is not provided within the required timeframe, the organisation may not be considered for future partnership opportunities. Legally binding agreements are in place for all Community Partnerships.
For more information
If you have any questions or require more information on our Community Partnerships Program, please contact us at communitypartnerships@sawater.com.au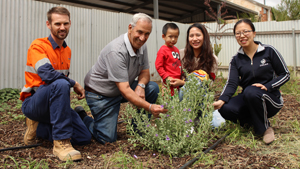 2019-20 Community Partnerships Program recipient - Murraylands Migrant Resource Centre
2019-20 Community Partnerships Program recipient - Lucindale Community Economic Development Board
2021-22 partners
Anglicare SA

Kurralta Park Flats Community Space & Garden

This project will create a safe green space and edible garden for young South Australians at risk of homelessness where they will learn independent living skills for a healthy lifestyle, such as gardening, cooking, food preparation and budgeting.

Australian Ocean Laboratory

Live Streaming Underwater Camera

Establishing a live-streaming underwater camera at the jetty in Edithburgh on the southern Yorke Peninsula, viewers from around the world will be able to view the area's marine life and reef system in real time, helping guide conservation activities through monitoring ocean temperatures.

Mount Barker Waldorf School

Bringing our creek back to life - revitalising and revegetation

This partnership will help restore the natural watercourse running through the school campus by promoting healthy water flow and planting native riverine vegetation for habitats.

Botanic Gardens and State Herbarium

Horticultural Therapy Program

Designed for vulnerable and all-ability South Australians, this inclusive program uses community gardening to educate on health, nutrition, and environmental sustainability

Youth Inc

Flow and Grow Adventures

A special assistance secondary school for people aged 17-24 years, Youth Inc's Flow and Grow Adventures aims to use water-based adventure activities, such as kayaking, to educate participants about climate change, conservation and marine pollution in South Australia's waterways and oceans.

Lucindale Community Economic Development Board (LINC)

Lucindale Airstrip Water Tank

This partnership will facilitate the installation of a new, 43,000-litre water storage tank at the Lucindale air strip. The most used strip for firefighting support in the upper and lower South East, the additional storage will significantly support efforts in controlling bushfires in the area.

CEG – Climate Emergency Group (a subgroup of WACRA, Western Adelaide Costal Residents Association)

My Tree Project

Promoting climate change action with school children, 250 children will propagate trees to be planted on Earth Day as well as participating in in an arts project defining what trees mean to them through drawing, painting, or writing poems and stories.

Adopt a Spot Scheme

Promotional Awareness Video for recruitment

This partnership will develop an educational video to create awareness of Adopt A Spot's efforts to clean South Australian beaches and waterways from built-up rubbish.

In 2020 alone, Adopt A Spot removed more than 4,800 kilograms of plastics and other debris from waterways.

Redeemer Lutheran School

Sustainability Fair

This project will help students design sustainability projects, including the design of water filters and frog and insect habitats, to be showcased at a sustainability fair. The event will demonstrate the products created and knowledge learnt about the science behind sustainability.

Healthy Cities Onkaparinga
Forum to explore community values and perspectives on sustainable water supply and use, its impact on local health and wellbeing

This forum aims to encourage community members to take action on climate change. Information featured at the forum will explore key issues such as water security, sustainable water practices and climate change.