Community partnerships
Community partnerships
Sponsorship for South Australian community groups
Not-for-profit, South Australian community organisations with a project or event focused on proactive environmental sustainability and/or the wellbeing of our community are invited to apply for sponsorship funding of up to $10,000.
Key measurable outcomes of your project or event must include:
A clear link to our vision of delivering trusted water services for a sustainable and healthy South Australia.
Opportunities for our people to engage with your community.
A clear benefit for our community.

In addition, it must support one of the following:

The wellbeing of active, thriving communities through a cooler or greener environment.
Proactive environmental leadership – demonstrating or supporting climate change action with a reduce and reuse mindset or climate change resilience.

This program runs annually following the financial calendar year.

The Community Partnerships Program funding limit is $10,000 per partnership.
Evaluation
All partnered programs and events will be evaluated once delivered. Legally binding agreements are in place for all Community Partnerships.
We are focused on working with organisations who, like us, foster an inclusive culture where diversity of thought, background and experience are embraced and celebrated.
Applications for 2021-22 are now closed.
In 2020-21, we proudly supported the following organisations to deliver their water-related community projects:
ACE Open

Water Rites Public Program

Water Rites is a Contemporary Aboriginal and Torres Strait Islander arts and cultural exhibition program featuring water-related installations and a public program of walks, talks, workshops plus kayak tour. The project uses and connects with water by focussing on it as a site of ritual and community via contemporary art and performance.

Can:Do Group

Can:Do South

This program provides support to children and adults who are deaf, hearing-impaired, blind, or vision impaired, giving them the opportunity to learn, in a realistic space, the skills they need for a life without limits. Funds will be used to support the Independent Living Skills Laundry.

Foodbank SA

Berri Community Garden

Foodbank is Australia's largest food relief organisation, operating on a scale that makes it crucial to the work of the front-line charities who are feeding vulnerable Australians. Funds will be used to establish a community garden adjacent to the Foodbank warehouse in Berri to grow produce to be used in meal packs, food deliveries and distributed via their Mobile Food Hub.

Marine Discovery Centre

Kids Marine Scientist Club

The Marine Discovery Centre provides inspirational discovery learning experiences whilst empowering students to actively protect South Australia's iconic coastal and marine environment. Funding will be used for the Kids Marine Scientist Club – a weekly club for children aged 7 to 13 years. Education topics include sustainable fishing, responsible water use, Aboriginal culture and the importance of preserving our marine environments.

Novita

Aquatic Therapy program

Novita's aquatic therapy program helps participants with vital mobility and therapeutic programs to improve stability, strength, range of motion, sensory input and pain management. Funding will provide a ceiling track hoist so higher needs clients can access the pool safely, and a platform, to provide flexibility with a range of water depths.

Port Vincent Progress Association

SA Water, water tower information and storyboard

Funding will provide interactive storyboards, seating and native plants at the site of the soon to be painted SA Water, water tower. The storyboards will outline where the water is sourced, how it is supplied, and the future sustainability of water supply in South Australia.

Clare Agriculture and Horticulture Society

SA Autumn Garden Festival

Funds will help to publicise the festival, which promotes sustainable gardening practices. Our experts in sustainability and liveability through water use, will present to festivalgoers and hold workshops.

St Mary's College

Grow the Future – Waterwise Gardening

Funding will be used to establish an interschools seed propagation project that will promote water wise gardening skills. They will develop links with local schools, engaging students in the seed propagation project while also teaching garden skills, water conservation and respect for nature.

Westside Housing Company

Water-wise Westside

Westside tenants have all been at risk of or experienced homelessness. Funding for this project will increase capacity to understand their water use habits, apply best practice methods of using water efficiently in their homes (retrofitting) including teaching tenants how they can reduce their water costs.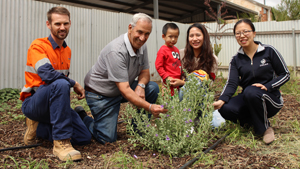 Murray Bridge Migrant Resource Centre. Tim Shannon from SA Water.
Opening of the Lucindale Pool, and disability swing. Adrian Maywald (Lucindale Area School Principal), Chris Tsharke from SA Water and Georgie McKay (Lucindale Area School Governing Council Chairperson)
What we won't support
While we welcome partnerships with a range of organisations, we do not accept applications for sponsorships that support:
individuals
any project, program or event related to gambling
events that promote the consumption of alcohol as its core activity (such as wine festivals)
organisations that we are already engaged in a formal arrangement such as a Memorandum of Understanding or contractual agreement
projects, programs or events where there is a real or perceived conflict of interest with an existing partnership, business or sponsorship activity
Charitable donations are not able to be made by our organisation
For all enquiries about sponsorships please contact communitypartnerships@sawater.com.au