The Barossa Reservoir was built between 1899 and 1902 and is now a popular tourist site.
A unique feature of the reservoir is the unusual acoustic phenomenon created by the shape and location of the dam. Sounds and voices travel along the curved length of the dam wall and this has led to it being named the "Whispering Wall".
The reservoir wall, 8 miles from Gawler, was built on a new principle, curved against the pressure of the water it was to impound. At 94 feet it was the highest arched-concrete dam in Australia, arousing the interest of overseas bodies including the Institution of Civil Engineers, London.
By January 1902 the locking-bar steel main connecting the reservoir with the Gawler Tank was supplying the town, and extensions to nearby country lands west of Gawler were under way.
Capacity: 4515 megalitres.
If this reservoir supplied the whole state, how long would this last? Seven days.
Area of water spread: 62 hectares.
Public access: Yes. Access to the dam wall (Whispering Wall), toilets, disability access, car park and picnic areas.
Visiting Hours: 8.00 am – 5.00 pm (standard time); 8.00 am – 6.00 pm (daylight saving time).
Current reservoir capacity: For current volume please click on the map below.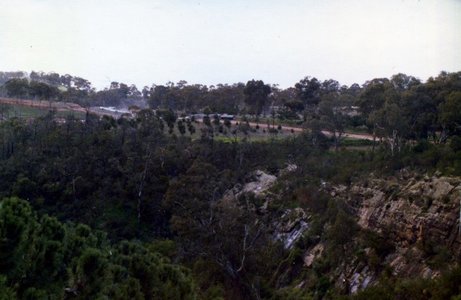 View over the Barossa reservoir, 1979