Myponga is a concrete arch dam with a ski-jump spillway. It was completed in 1962.
When the pipeline from the dam was being built, one worker had a lucky escape. He was working inside the pipe, about 150 m downstream of the dam. There was a sudden rock-slide and he and the pipe were buried. When the debris was cleared away, the worker was found unhurt.
Before the Myponga Water Treatment Plant was built in 1993, water from Myponga was used to supplement the Happy Valley Reservoir.
Capacity: 26,800 megalitres.
If this reservoir supplied the whole state, how long would this last? Almost 46 days (45.8 days).
Area of water spread: 280 hectares.
Public access: No. There is however a look-out available on the roadside that is available 24 hours a day, seven days a week.
Current reservoir capacity: For current volume please click on the map below.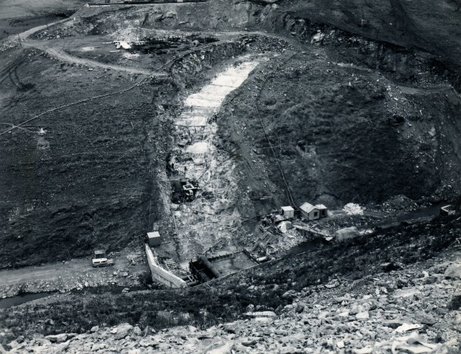 Myponga reservoir in 1960