Hope Valley Reservoir Reserve
Hope Valley Reservoir Reserve

The second reservoir built in Adelaide, Hope Valley was completed in 1873. The Reservoir receives water diverted by the Gorge Weir on the River Torrens via a tunnel (aqueduct) as well as the Mannum to Adelaide pipeline.
The two larger upstream reservoirs, Kangaroo Creek and Millbrook, are supply sources for Hope Valley.
Public access: Yes
What sets Hope Valley Reservoir apart
Capacity: 2.9 gigalitres (that would fill around 1,400 Olympic swimming pools]
Located in the heart of Adelaide's north eastern suburbs, Hope Valley Reservoir was completed in 1873 to become Adelaide's second reservoir, and is our oldest in operation.
Hope Valley is interesting because it does not collect surface water from the local catchment but is filled with water diverted by the Gorge Weir on the River Torrens via a tunnel supplied from Kangaroo Creek Reservoir. In fact, you'll notice a channel surrounding the reservoir which catches and diverts local surface water away from the reservoir. This helps control the quality of the reservoir water before it is treated at the Hope Valley Water Treatment plant situated next to the reservoir.
Hope Valley Reservoir is our smallest reservoir and one of only two in the metropolitan area, the other being Happy Valley which is more than four times larger at 12.6 gigalitres.
Water Quality
Hope Valley Reservoir is one of 16 across the state that help supply water to more than 1.7 million South Australians. Water from the reservoir is cleaned and filtered at the Hope Valley Treatment Plant before being supplied to customers living in the north eastern suburbs. Treating drinking water before it's supplied to people's homes, businesses, schools, hospitals and more is important to make sure it is clean and safe to drink straight from the tap. You can learn how SA Water treats water and maintains the quality its customers value and rely upon.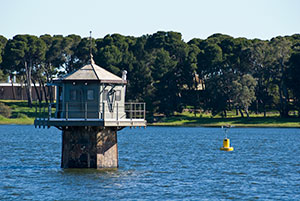 Total Hope Valley Reservoir Reserve level
Capacity, volume and rainfall levels across reservoirs supplying metropolitan Adelaide, compared to last month last year
Capacity (GL)
Volume this week (GL)
Volume this week (%)
Volume this week last year (GL)
Average Volume this month (GL)
Rainfall this week (mm)
2.9
2.5
84
2.5
2.4
6.00
Major faults

Underway




Polkinghorns Rd

Arthurton

18/06/2020

Water Supply On

18/06/2020 03:05 PM - We are attending to an incident in Arthurton with no interruption to the water supply. The safety of our crews and customers comes first, and we always aim to minimise inconvenience by restoring services as quickly as we can. Reference Number WO: 07505663.
Scheduled works

Underway

Spruance Rd

Elizabeth East

11/06/2021

Temporary Supply Interruption

Estimated start time and water supply off: 15/06/2021 09:00 AM
Estimated restore time and water supply back on: 15/06/2021 04:00 PM
We're improving your services and undertaking maintenance work in Elizabeth East. Sometimes our crews need to temporarily interrupt the water supply to our customers and/or manage traffic while they are working. Temporary traffic management may remain in place until reinstatement of the impacted road is complete. We always aim to minimise inconvenience by restoring services as safely and quickly as we can.