Tod River Reservoir
Tod River Reservoir

The Tod River Reservoir is 27 kilometres north of Port Lincoln and an ideal spot for a barbeque picnic and some tennis. While you're there you can learn about the dam wall construction in the early 20th century and visit the lookout. The reservoir is supplied by concrete channels fed from weirs constructed across the Tod River and its major tributary, Pillaworta Creek.
The reservoir is not used to supply drinking water to our customers, primarily due to the water's high salinity levels. We currently don't monitor this reservoir's volume.
Capacity: 11.3 gigalitres
Open to the public: Yes
Visit the Reservoirs South Australia website for more information on activities available to enjoy at Tod River Reservoir Reserve.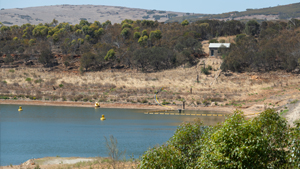 Major faults

Underway




Polkinghorns Rd

Arthurton

18/06/2020

Water Supply On

18/06/2020 03:05 PM - We are attending to an incident in Arthurton with no interruption to the water supply. The safety of our crews and customers comes first, and we always aim to minimise inconvenience by restoring services as quickly as we can. Reference Number WO: 07505663.
Scheduled works

Underway

Spruance Rd

Elizabeth East

11/06/2021

Temporary Supply Interruption

Estimated start time and water supply off: 15/06/2021 09:00 AM
Estimated restore time and water supply back on: 15/06/2021 04:00 PM
We're improving your services and undertaking maintenance work in Elizabeth East. Sometimes our crews need to temporarily interrupt the water supply to our customers and/or manage traffic while they are working. Temporary traffic management may remain in place until reinstatement of the impacted road is complete. We always aim to minimise inconvenience by restoring services as safely and quickly as we can.