Warren Reservoir Reserve
Warren Reservoir Reserve

A short drive south east of Williamstown in the Barossa Valley, Warren Reservoir Reserve is a great place to drop a line, either from the shore or from your canoe or kayak with a permit. Built on the South Para River between 1914 and 1916, it is currently stocked with Murray cod (catch and release), golden perch and silver perch.
There are two trails within the reservoir reserve to experience: the 5.5 kilometre West Warren loop and the 8.8 kilometre North Warren loop. The West Warren loop also forms part of a link trail to South Para Reservoir Reserve, over a total 4.5 kilometre trail, while the North Warren Loop walk links in to more than 20 kilometres of trails to take hikers through Mt Crawford Forest, adjacent South Para Reservoir and on to Para Wirra Conservation Park.
Capacity: 4.7 gigalitres (that would fill 2,300 Olympic swimming pools)
Public access: Yes
Car park: Yes
Dam wall lookout: Yes
Walking/running: Yes
Picnicking: Yes
Fishing: Yes
Kayaking/canoeing: Yes
Wildlife/birdwatching: Yes
The Reservoir Reserves South Australia website has maps and ideas of how to enjoy Warren Reservoir Reserve.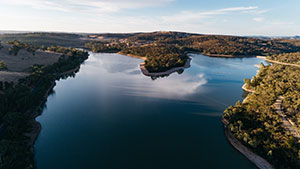 Total Warren Reservoir Reserve level
Capacity, volume and rainfall levels across reservoirs supplying metropolitan Adelaide, compared to last month last year
Capacity (GL)
Volume this week (GL)
Volume this week (%)
Volume this week last year (GL)
Average Volume this month (GL)
Rainfall this week (mm)
4.7
4.8
102
4.8
4.8
6.80
Major faults

Underway




Addis St

Evanston Park

10/07/2020

Water Supply On

10/07/2020 07:57 PM - We are attending to an incident in Evanston Park with no interruption to the water supply. The safety of our crews and customers comes first, and we always aim to minimise inconvenience by restoring services as quickly as we can. Reference Number WO: 07552485.
Scheduled works

Underway

Leader Av

Toorak Gardens

12/07/2020

Temporary Supply Interruption

Estimated start time and water supply off: 14/07/2020 09:00 AM
Estimated restore time and water supply back on: 14/07/2020 06:00 PM
We're improving your services and undertaking maintenance work in Toorak Gardens. Sometimes our crews need to temporarily interrupt the water supply to our customers and/or manage traffic while they are working. Temporary traffic management may remain in place until reinstatement of the impacted road is complete. We always aim to minimise inconvenience by restoring services as safely and quickly as we can.