The Kangaroo Creek dam was constructed between1966 and1969. The reservoir increased the storage capacity for the River Torrens and feeds into Millbrook Reservoir.
Water from Kangaroo Creek is released into the River Torrens as required, to maintain the level in the Hope Valley Reservoir, with the water diverted at the Gorge Weir.
Capacity: 18.7 gigalitres (one gigalitre is one billion litres), which would fill more than 9,300 Olympic swimming pools
Public access: No. There is a lookout on the roadside, open every day.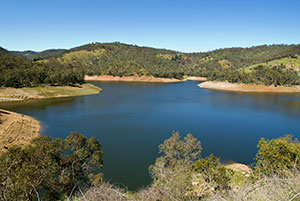 Upgrade works at Kangaroo Creek Dam are underway to widen the spillway, and raise and strengthen the wall. These works will help manage major floods and increase the dam's ability to withstand earthquakes.
The footage above shows some of the exciting developments as we move into the second and third and final stages of the project, which is due for completion in 2019.
Total Kangaroo Creek Reservoir level
Capacity, volume and rainfall levels across reservoirs supplying metropolitan Adelaide, compared to last month last year
Capacity (GL)
Volume this week (GL)
Volume this week (%)
Volume this week last year (GL)
Average Volume this month (GL)
Rainfall this week (mm)
18.7
6.1
32
4.6
6.1
0.00