Construction of the Kangaroo Creek dam began in 1966 and was completed in 1969. Kangaroo Creek reservoir was opened by The Hon. R. Steel Hall, M.P. Premier of South Australia on Fri 5th Dec 1969.
The purpose of Kangaroo Creek reservoir. was to increase the storage capacity for River Torrens from 4,500 million gallons to approx. 10,500 million gallons.
The Kangaroo Creek reservoir area controls 112 sq miles of the River Torrens catchment which also feeds into Millbrook Reservoir.
Water from Kangaroo Creek is released into the River Torrens as required, to maintain the level in the Hope Valley Reservoir, with the water diverted at the Gorge Weir.
Capacity: 19,160 megalitres.
If this reservoir supplied the whole state, how long would this last? Almost 33 days (32.8 days).
Area of water spread: 103 hectares.
Public access: No. There is a look-out available on the roadside that is available 24 hours a day, 7 days a week.
Current reservoir capacity: For current volume please click on the map below.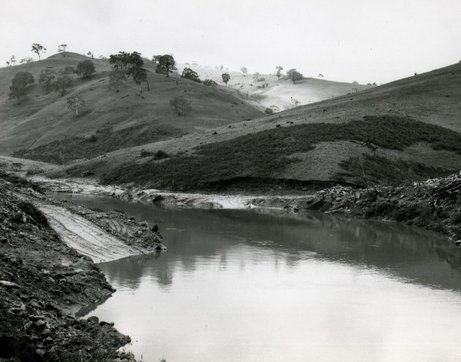 Archive photograph of Kangaroo Creek reservoir
SA Water is upgrading Kangaroo Creek Dam. The work will widen the spillway, raise the wall and strengthen the wall. These upgrades will help manage major floods and also increase the dam's ability to withstand earthquakes.
This footage shows some of the exciting developments as we move into the second and third and final stages of the project, due for completion in 2019.