Reading the meter
Reading the meter
Watch our Technical Service Officer, Tim, explain how to read the meter on your property.
Video transcription
Hi, I'm Tim from SA Water. A lot of people ask me how to read their water meters, so I'll talk you through it.
Checking your water meter on a regular basis, as well as the taps, pipes and fittings around your property, can help you save water and money.
You're most likely to find your water meter at the front of the property. In Strata or Community Titled properties, there may only be one water meter to supply all units.
Not all meters are identical, but the black and white numbers represent kilolitres, and the red numbers show individual litres. So this water meter is showing usage of 3923 kilolitres and 68 litres. Some older meters may have a 4th red digit representing 1/10th of a litre.
If you want to track your water usage, simply write down the numbers on the water meter dial, so you can take a monthly record. If you want to test for accuracy, here's a simple test you can do.
Turn off all taps around your property. Record the red numbers on your water meter. This one reads 68. Fill up a 10 litre bucket from a tap on your property, and make sure it doesn't overflow. Check your meter again, and if it's accurate, it should read 10 litres more, which this one does.
It's extremely rare for water meters to be inaccurate. However, if you have any concerns, please call 1300 650 950.
So there you go – simple. Thanks for your attention, and we'll see you next time.
Reading your meter is the best way to keep track of your water use, and ensure your bill is an accurate reflection of it.
Most water meters are located near the property's front boundary. If you live in a strata or community titled property, you will need to check if each dwelling has a meter or if there is one for everyone.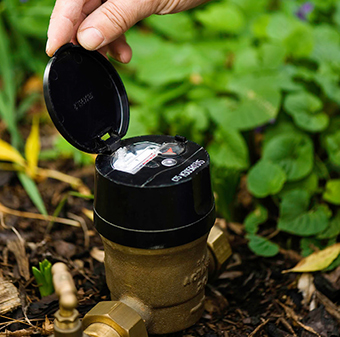 When you have located your meter, lift the cap to see the display. Not all displays are the same, yet all meters are colour coded to indicate litres and kilolitres.
In this diagram, the black and white numbers represent kilolitres (one kilolitre is 1000 litres) and the red and white numbers represent litres. This meter displays a use of 126 kilolitres and 487 litres.

We also have information to help you check if if you have a leak on your property or have concerns about your water pressure. You can also ask for the accuracy of your meter to be tested.
Your meter tap controls water flow to your property. It can only be used to shut off supply for emergency situations or plumbing work and is not designed to stop supply long term.
Major faults

Underway




Polkinghorns Rd

Arthurton

18/06/2020

Water Supply On

18/06/2020 03:05 PM - We are attending to an incident in Arthurton with no interruption to the water supply. The safety of our crews and customers comes first, and we always aim to minimise inconvenience by restoring services as quickly as we can. Reference Number WO: 07505663.
Scheduled works

Underway

Spruance Rd

Elizabeth East

11/06/2021

Temporary Supply Interruption

Estimated start time and water supply off: 15/06/2021 09:00 AM
Estimated restore time and water supply back on: 15/06/2021 04:00 PM
We're improving your services and undertaking maintenance work in Elizabeth East. Sometimes our crews need to temporarily interrupt the water supply to our customers and/or manage traffic while they are working. Temporary traffic management may remain in place until reinstatement of the impacted road is complete. We always aim to minimise inconvenience by restoring services as safely and quickly as we can.