Keeping our sewers healthy
Keeping our sewers healthy
South Australians, we know what you're flushing. We see your pipes, and they're full of wet wipes!
That's not all you're flushing. Condoms, tampons, tissues… The list goes on! All of these items don't belong in our sewer network, so we need your help to keep our sewers healthy and limit the number of blockages and overflows. The solution is simple. Put it in the bin, South Australia!
Over the past 12 months, wet wipes alone were directly responsible for more than 2,500 blockages across our statewide network.
If it's not paper, pee or poo, do not flush it down the loo.
When items other than the three Ps – paper (toilet), pee and poo – are flushed down the loo, they can easily become trapped in our sewer pipes. This causes a blockage, which can lead to overflows inside your home, yard or in your street, which can also impact on the local environment.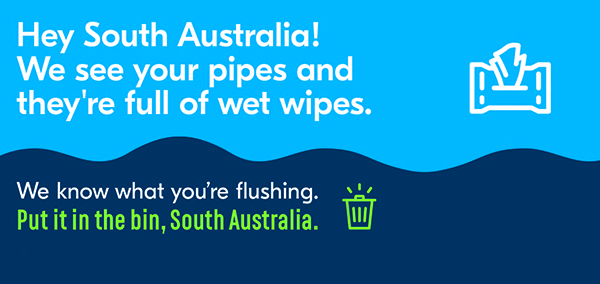 In the toilet
What you can flush
The three Ps:
| What you can't flush | Where you can put it |
| --- | --- |
| Wet wipes | General waste bin |
| Baby wipes | General waste bin |
| Tissues | Green/compost bin |
| Condoms | General waste bin |
| Tampons and pads | General waste bin |
| Hair | Green/compost bin |
| Nail clippings | Green/compost bin |
| Pet poo | Green/compost bin |
These 'unflushable' items are not designed to easily break down in water – they get stuck in our pipes, tangled within tree roots in search of water, or collected at wastewater treatment plants and then taken to landfill. Wet wipes and feminine hygiene products account for around 90 per cent of materials removed from blocked sewers.
Learn more about which bin to put things in.
| | | |
| --- | --- | --- |
| | | |
| | | |
At the sink
Your flushing habits aren't the only cause of blockages and overflows – what you're rinsing has also got us wincing!
What you can rinse/drain:
washing up water
plates and dishes with large scraps scraped off
use a sink strainer basket to catch the large scraps and put these in the compost or general waste bin.
What you can't rinse
Where you should put it
Cooking oil
Small quantities – soak with a paper towel and put in the green/compost bin
Large quantities – put in a plastic container or jar with a lid and then in the general waste bin
Coffee grounds
Green/compost bin
Tea leaves/tea bags
Green/compost bin
Egg whites
Green/compost bin (can be frozen and then added to the bin
Cereal scraps
Green/compost bin
Pasta
Green/compost bin
Fats
Let them solidify and then scrape into the green/compost bin
It's important not to treat your kitchen sink, and other drains such as in your shower, like a bin. Cooking fats, greases and oils must not be put down the drain, as they build up and congeal in your internal pipework and our sewer pipes. They also stick like glue to bind other types of 'unflushables' like wet wipes, eventually causing a blockage that will send everything in the pipes back up. Instead, you should let them cool and then put them in your bin.
As well as creating foul-smelling odours in the pipes, fats and oils discourage the growth of the naturally-occurring good bacteria needed in the treatment process at our wastewater treatment plants.
Learn more about which bin to put things in.
Outdoor drains
Some outdoor drains in your garden go into the sewer, just like your kitchen sink, shower and bath, or your local council's storm water network. The list above also applies to outdoor drains.
Learn more about which bin to put things in.
Smart technology and our sewer cleaning program
Our targeted sewer cleaning program sees us travel around South Australia to clean the 9,000 kilometres of sewer network.
We are trialling smart wastewater technology in several targeted Adelaide suburbs, with smart sensors providing us with data to monitor sewage levels and proactively maintain the network to prevent a pipe blockage.
Major faults

Underway




Polkinghorns Rd

Arthurton

18/06/2020

Water Supply On

18/06/2020 03:05 PM - We are attending to an incident in Arthurton with no interruption to the water supply. The safety of our crews and customers comes first, and we always aim to minimise inconvenience by restoring services as quickly as we can. Reference Number WO: 07505663.
Scheduled works

Underway

Spruance Rd

Elizabeth East

11/06/2021

Temporary Supply Interruption

Estimated start time and water supply off: 15/06/2021 09:00 AM
Estimated restore time and water supply back on: 15/06/2021 04:00 PM
We're improving your services and undertaking maintenance work in Elizabeth East. Sometimes our crews need to temporarily interrupt the water supply to our customers and/or manage traffic while they are working. Temporary traffic management may remain in place until reinstatement of the impacted road is complete. We always aim to minimise inconvenience by restoring services as safely and quickly as we can.