Art on infrastructure
Art on infrastructure
Murals and large-scale artworks play an important part in creating a vibrant community.
While the role of your state-wide network of water towers, pump stations, storage tanks and pipelines is to deliver clean and safe drinking water to our customers, they can also provide a canvas for public art that everyone can enjoy.
As part of our art on infrastructure program, we work with community organisations and groups through the planning, concept and execution of projects which use art to celebrate the significance of water to South Australia, and its connection to the local community.
We have already collaborated with several groups and artists around the state, with these various artworks also showcasing a connection to water and cultural diversity, reconciliation and the importance of Aboriginal culture, the natural environment or history of the local area.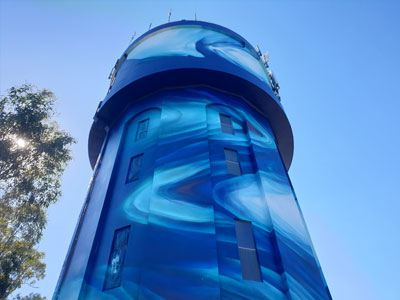 Belair water tower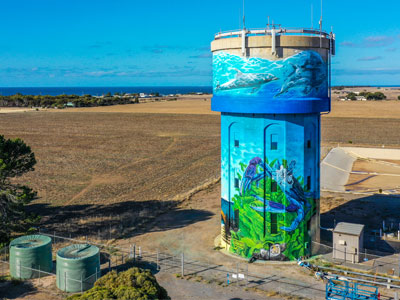 Stansbury water tower
Selection criteria
Applications are open year-round and must address:
how the project will be funded
community focus
artist involvement
development of conceptual design
suitability of materials
local government approval requirements
location suitability
As part of the agreement, we will enable safe access to the infrastructure, following an assessment of future maintenance schedules.
Submitting an application
If you would like to submit an application, please complete this form and send to community@sawater.com.au. You can also email us at this address if you require more information about our art on infrastructure program.