Industry partnerships
We are a thought leader in the Australian water industry and partner with water related industry groups. We do this to share knowledge and ideas, as well as to better understand and influence decision making in the water industry.
In 2020, our industry partners include: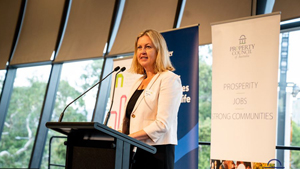 Anna Jackson, our GM of Customers, Strategy and Innovation, speaking at the Property Council's International Women's Day breakfast
All industry partnership opportunities are individually assessed on a needs basis and applications are considered at any time.
What we won't support
individuals
any project, program or event related to gambling
events that promote the consumption of alcohol as its core activity (such as wine festivals)
organisations that we are already engaged in a formal arrangement such as a Memorandum of Understanding or contractual agreement
projects, programs or events where there is a real or perceived conflict of interest with an existing partnership, business or sponsorship activity
Charitable donations are not able to be made by our organisation
For all enquiries about sponsorships please contact sponsorships@sawater.com.au