Drinking water networks
Drinking water networks
Each year we supply more than 220 billion litres of water to South Australians. Of all Australian water utilities, we have the longest water mains supply network at more than 27,000 kilometres. We also manage nearly 9,000 kilometres of sewerage mains and the longest recycled water network in the country, at more than 370 kilometres.
Facilities throughout metropolitan Adelaide
In metropolitan Adelaide, we deliver water to our customers through an interconnected system of pipes, water treatment plants and pump stations. This network is so flexible, that with a few adjustments, we can move large volumes of water from north to south or east to west of the city.
Our water treatment plants supply eight key areas in metropolitan Adelaide.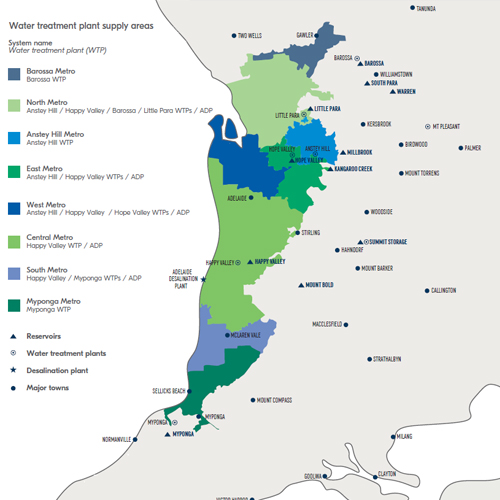 Facilities around regional South Australia
In regional parts of the state, each area's water main network has its own unique operational needs, based on where water is sourced from, the kind of treatment the water needs to be safe and clean, and the type of customers the water is supplied to and across how long of a distance.
Our water treatment plants supply 19 key areas across the state.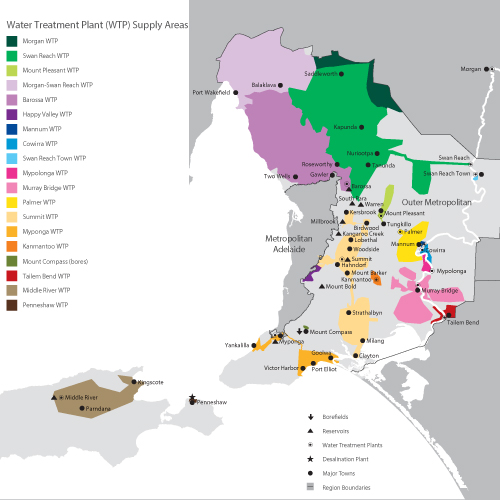 The pipeline network
We are able to supply water from the River Murray to homes and businesses across the state thanks to five major pipelines.
The raw water pipelines are:
Mannum to Adelaide. The 87 kilometre Mannum to Adelaide Pipeline was the first major pipeline built from the River Murray to serve the needs of Adelaide. The pipeline began operating in 1955 and supplies water to the metropolitan network through a water treatment plant at Anstey Hill. It directly supplies residents in the Torrens Valley and north eastern foothills suburbs and can also deliver water to six reservoirs.
Murray Bridge to Onkaparinga. This 50 kilometre pipeline – almost half underground – was the second pipeline built to supply Adelaide with drinking water. Completed in 1973, it carries water from just north of Murray Bridge to the Mount Bold Reservoir and our water treatment plants in Kanmantoo and Balhannah in the Adelaide hills.
The treated water pipelines are:
Swan Reach to Paskeville. This 189 kilometre pipeline was built to supply the Barossa Valley, Lower North and Yorke Peninsula areas. First used in the 1960s, it serves townships and farmland along its route, from Swan Reach on the Murray to Paskeville on the Yorke Peninsula. The water is treated at Swan Reach as it is pumped into the pipeline.
Morgan to Whyalla. This is in fact two pipelines – built in the 1940s and 1960s – which now delivers 66 megalitres of water annually to the upper Spencer Gulf. Travelling 641 kilometres from Morgan on the River Murray to Whyalla, branches of the pipeline serve Iron Knob, Jamestown, Peterborough and many other small towns and farming districts.
Tailem Bend to Keith. This 132 kilometre pipeline feeds 800 kilometres of branch mains and covers an area of 6,470 square kilometres. Water is treated in Tailem Bend before it commences its journey to Keith.
Another vital part of the state's water services network is a number of smaller pipelines that are often extensions of larger ones, often bringing much needed water to country communities.
Lower Lakes pipelines. Two pipelines deliver water to the communities whose water comes from Lake Alexandrina and Lake Albert. One is for drinking water and one for irrigation. These 170 kilometre pipelines deliver water to people in Langhorne Creek, the Raukkan Aboriginal community, Narrung Peninsula and Poltalloch Peninsula. Irrigation water is delivered to irrigators in Langhorne Creek and Currency Creek.
Point Sturt and Hindmarsh Island pipelines. To relieve the pressures of water shortages on the Point Sturt and Hindmarsh Island communities, we built two new pipelines. Completed in 2010, they deliver both drinking and irrigation water. The first pipeline is 11 kilometres long and is an extension off the Milang-Clayton pipeline, running through to Point Sturt on Lake Alexandrina. The second, 12.6 kilometres pipeline is an extension pipeline and serves the Hindmarsh Island marina precinct in the south of the island.
Yorke Peninsula. A new pipeline reaching from Morgan and Swan Reach stretches nearly 40 kilometres across to Warooka and Point Turton on the Yorke Peninsula, providing a more secure supply of quality drinking water. This also reduces the reliance on bores, and future proofs the area for growth.