The construction of the Millbrook Reservoir spanned the years of the First World War: 1914 to 1918. The reservoir was built to control flows in the upper reaches of the River Torrens. It also gave us a reservoir in the Mount Lofty Ranges that is high enough to supply water using gravity feed to Adelaide's eastern suburbs.
The reservoir is named after the small town of Millbrook, which used to be above the dam wall.
Despite claims many of the old buildings of Millbrook still exist beneath the waters, they're not true. The abandoned buildings in the storage area, like Miss Adey's Private School and the Millbrook Hotel, were all demolished and cleared away before the reservoir was filled.
The old bridge over the Torrens was however left intact. During a severe drought in 1955 when the level of the reservoir dropped to a record low, the old bridge became visible for the first time in nearly 40 years.
In the 1970s, the nearby small town of Chain of Ponds was also demolished. This occurred to safeguard against any pollution of the water in the reservoir.
Water is now released from Millbrook Reservoir back into the Torrens to supplement water into the Kangaroo Creek Reservoir.
Capacity: 16,500 megalitres.
If this reservoir supplied the whole state, how long would this last? About 28 days.
Area of water spread: 178 hectares.
Public access: No.
Current reservoir capacity: For current volume please click on the map below.
Millbrook spillway widening - 2006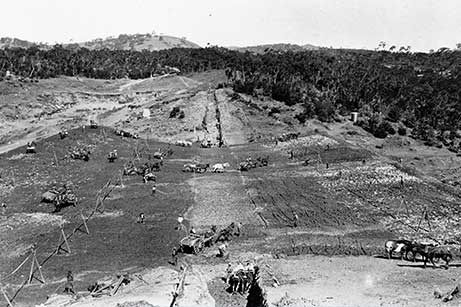 Millbrook embankment construction - 1916