The Mount Crawford reservoir was name 'Warren' after the Liberal MLC who found the site.
The Warren Reservoir was built on the South Para River between 1914 and 1916.
Edgar Bradley was the construction project supervisor as well as the resident engineer overseeing the construction of the Millbrook Reservoir.
So he could travel between the two construction sites, Mr Bradley was given a new Model 'T' Ford for $444. He had to learn to drive so he could make the 30 km journey to Warren from Millbrook in just one hour. Before he had his car, the trip by horse and buggy took two-and-a-half hours.
Capacity: 4790 megalitres.
If this reservoir supplied the whole state, how long would this last? About 8 days.
Area of water spread: 105 hectares.
Public access: Yes. Access to the reservoir for shore-line recreational angling with a valid permit.
Visiting hours: Anglers with permits can access designated areas between 8.00 am and 5.00 pm daily.
Current reservoir capacity: For current volume please click on the map below.

Reservoir data on this page is updated once daily at 11.30am. Updates do not occur over weekends.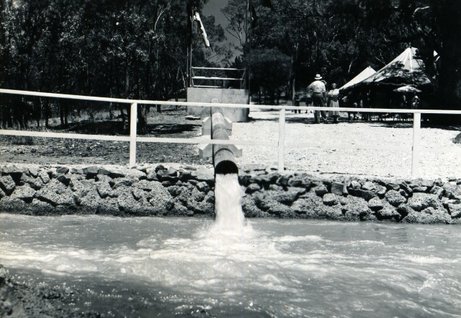 Water flowing after the opening ceremony of Warren reservoir, 1955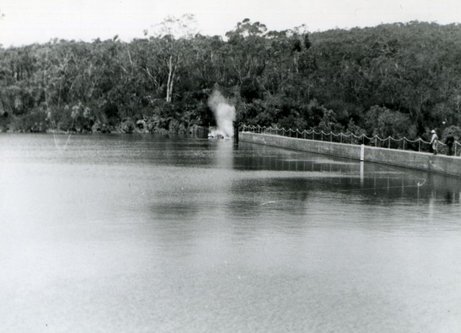 Blasting at Warren reservoir in 1974