How to check for leaks
Leaks can occur in concealed pipework. You can check for a leak by simply:
reading your water meter
not using any water for 1-2 hours
reading the meter again.
If the reading has changed, you may have a leak. If you think this is the case, please contact a licensed plumber.
You can find more information online at sawater.com.au including where most people use water and tips on how to use it efficiently in your home and garden.
Where leaks can occur
To spot signs of a leak, look for:
patches of damp soil, paths (brickwork or concrete) or greener than usual lawn/garden bedson your property as this may indicate a concealed leak. Also check any irrigation, such assprinklers or drippers.
damp, warped or discoloured walls, floorboards or carpets inside your home. This may indicateyou have a concealed leak. Drips on the side of your hot water system or evaporative air-conditioner, water pooling under the dishwasher or water damage to cupboards may alsoindicate a leak.
A tap that drips two times per second can add up to more than 25 litres of water a day. The most common type of leak is a running toilet cistern that can leak up to 260 litres of water per day. You can check for leaks by putting a few drops of food colouring in your cistern. If the colour shows in the toilet bowl without flushing, you've got a leak.
If you notice water pooling under the washing machine, this may indicate that your hoses or tap have a leak.
Repairing or reporting a leak
Depending where the leak is, you will either need to contact your plumber or us. Look at the diagram, if the leak is:
on your side of the meter's outlet riser, please contact your licensed plumber.
between the water main and the outlet riser on your meter, please report it to us online atsawater.com.au or call us on 1300 SA WATER | 1300 729 283.
Reminder: the tap on your water meter should only be used to undertake maintenance or fix a fault.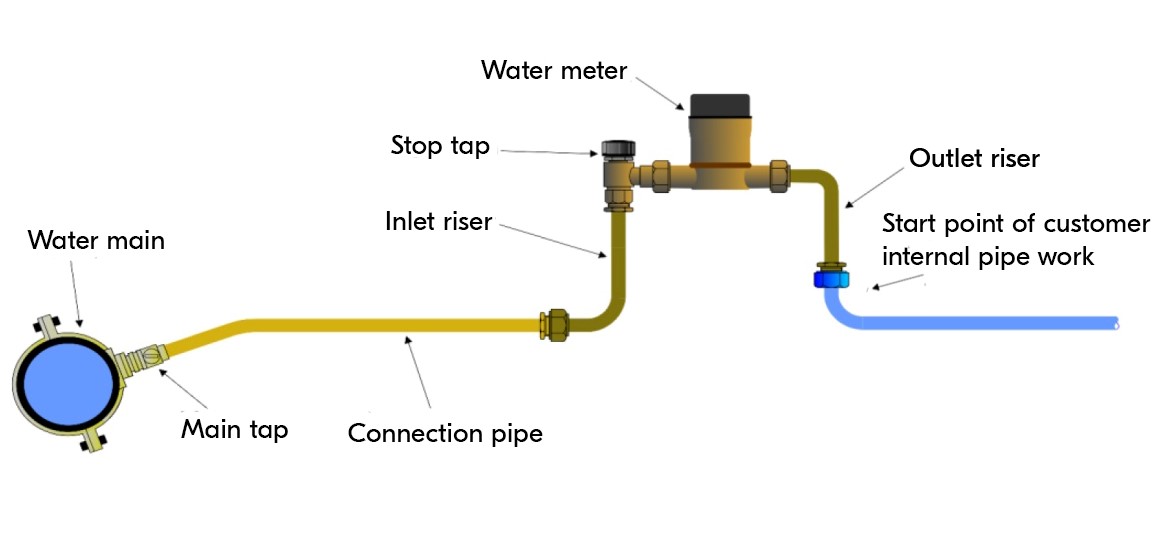 Financial assistance
If you discover a concealed leak in your private pipe work, you may be eligible for an allowance.
The allowance, equal to 50 per cent of the water wasted (capped at 600 kilolitres), may be granted if certain conditions are met.
To apply, please use our online leakage allowance form.