In this section you will learn what to do if you suspect a leak on your property. Leaks can be as visible as a dripping tap, or hidden until you get your water bill. Water leaks can waste a lot of water, so the quicker you can identify and fix leaks the better.
First stop: Read your meter.
The simplest check is to take a reading of your water meter. Not sure how? Our page How do I read my meter? will teach you, or you can watch this video:
Read your meter and note the reading
Don't use any water (including toilets) for a couple of hours
Read your meter again.
If there is a difference between the two readings you may have a leak.
Your next step is to go through our checklist.
Step through the checklist below to see if you can find your leak.
Look for dripping taps or damaged seals around taps and sinks. A tap that drips approximately 2 times per second can waste over 25 litres a day.
See if water is pooling under any appliance that is connected to the plumbing. This includes your washing machine, dishwasher or fridge.
Make sure your toilet cistern isn't continually running. A leaking toilet is the most common leak and can waste up to 260 litres a day. To test it put food colouring in the cistern. If the colour shows in the toilet bowl without flushing, you've got a leak.
Look for any cracked, frayed, bulging or wet hoses connected to the washing machine or laundry tub.
Check around the house for damp, warped or discoloured walls, cupboards, bench tops, floorboards and carpets.
Look for drips on the side of the hot water system.
Check that evaporative air conditioners are functioning correctly.
In the garden, look for wet patches of grass that are greener than expected.
Check for damp or unstable brick paving or concrete.
Check outdoor garden taps and hoses. Also look over your garden reticulation (including sprinklers) for drips and leaks.
Install a leak detection auto-isolation valve (Note: These may not be suitable where evaporative air conditioners are in use).
Found your leak? If you have found a leak on your side of the meter you should take immediate steps to fix it. We recommend using a licensed plumber. If you can't locate the leak, a plumber will also be able to assist you.
We have compiled our top tips for finding and preventing leaks. These tips apply to everyone: At home, in a business, or in any sort of commercial property.
Keep daily, weekly or monthly data of your water use, and always investigate any rapid changes in consumption. It is very important that identified leaks are followed up quickly. A leak of just 5 litres per minute can cost a business more than $8,700 in water use alone every year! (Based on 2014-15 prices).
Install smart metering to monitor any unusual trends.
Educate everyone living or working on the property to report any leaks. Then make sure the leaks are fixed immediately.
Install leak detection auto-isolation valves
Do a monthly inspection focusing on piping joints, toilets, showers, taps, pump seals, hose nozzles, shut-off valves, cooling towers, etc.
Check for leaking toilets. The best way to do this is to put food colouring in the cistern. If the colour shows in the toilet bowl without flushing, you've got a leak.
Check any equipment that uses water on a regular basis and put in place preventative maintenance schedules to help avoid potential issues. Poorly maintained equipment can be prone to leaks.
Have underground or concealed pipe work tested. Plumbing companies can be employed to use acoustic leak detection units and pressure testing to locate leaks.
Business customers can access a full leak analysis service that helps provide a real-time view of water use on their properties.More information is here.
For more information please contact us.
If you discover that you have had a concealed leak in your private pipe work, you may be able to access an allowance.
The allowance, equal to 50% of the water wasted (capped at 600 kilolitres), may be granted if certain conditions are met.
You can apply for a leakage allowance here.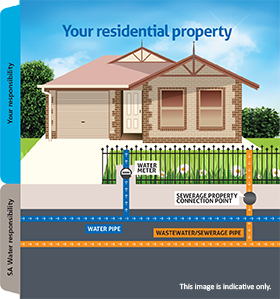 If you find a leak in any of these pipes, you must have it repaired.
You should only use the water meter's stop tap for maintenance, or in an emergency. The stop tap is a tap on your meter to control water flow into your property. If the stop tap stops working, we will not accept responsibility for any water loss or damage.
We recommend that you use a licensed plumber to install an isolation valve if you want to control your water supply.
Please help us by keeping your water meter clear, so we can read and maintain it easily. Keep it free from plants, rubble and other obstructions.