Safe use of public drinking water fountains during South Australia's response to COVID-19
You can continue using outdoor public water fountains and ensure your safety, by following these simple instructions.
Flush for 10 seconds before drinking
Avoid contact between the fountain and your mouth
Use an elbow to operate if possible
Please do not use water fountains to wash your hands.
Remember some public outdoor spaces are no longer open for public use so please do not use water fountains located in these areas.
Find out more at sa.gov.au
Tap water remains safe to drink. Tap water is disinfected and there is no evidence that the COVID-19 virus is transmitted by drinking water.
Find a fountain with our BYOB app
SA Water's BYOB app enables you to search for nearby drinking fountains and bottle filling stations wherever you are in South Australia. Whether you need a quick drink, to fill your bottle, or quench your dog's thirst, the app will help you find the fountain you need – and get you there with clear directions via an interactive map.
There's already close to 1000 mapped drinking fountains and you can add more. You can also give a star rating so that everyone can see the highly rated fountains, and we can contact councils where the rating is low and let them know their fountain may need some love.

Download the BYOB app for Google devices

Download the BYOB app for Apple devices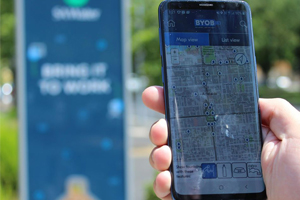 Bring Your Own Bottle and save
Tap water is one of the best choices you can make for your health, your wallet, and the environment.
Did you know that around two thirds of our body weight is water? That's why it's important to drink water and replace loss from your body through everyday functions and perspiration. Aim to drink at least two litres of water every day to stay hydrated and healthy. Keeping hydrated improves physical and mental health and helps prevent kidney stones, constipation and urinary tract infection.
One of the easiest, most cost-effective and environmentally friendly ways to build this healthy habit is by using your own re-useable bottle and drinking clean, safe water, straight from the tap. Tap water is the best beverage choice you can make, with no sugar, no kilojoules, no caffeine and no damaging acidity which can contribute to tooth decay.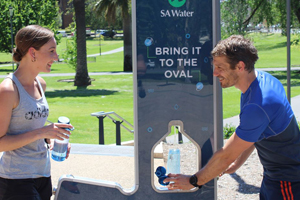 A better habit
Around 370 million single use plastic water bottles make their way to landfill each year around Australia. Single use plastic bottles impact the environment when they are made, with each one litre bottle taking up to 250ml of crude oil and three litres of water to manufacture. Single use plastic bottles then continue their impact on the environment long after the drink they held has been consumed, taking up to 1000 years to break down.
We're pretty good recyclers in South Australia, but with only 65.8% of PET bottles sold last year being returned for recycling, there's still a huge number of plastic bottles making their way to landfill or the natural environment.
Bring your own re-useable bottle while you're out and about, and form a better habit.